Hello!
I'm Manelle,
and I have a question for you.
What inspired you to become an artist?
For Me, it Was Stories
I remember my mom reading "The Lion the Witch and the Wardrobe" to me before I was old enough to read it on my own. I remember watching shows like Faerie Tale Theatre, and Start Trek the Next Generation (That's how old I am guys) and being absolutely entranced.
What I didn't realize at the time was how much I was learning from these stories and how much they were connecting me to the people I love.
Stories Teach Us
As we journey through Narnia with Lucy, Edmund, Peter, and What's-her-face (Jk it's Susan). We see these children making choices. Watching Lucy stand strong as she tried to convince her siblings that Narnia was real taught us about the power of standing up to opposition. Watching Edmund make the wrong choice when he trusted the witch helped us know what not to do.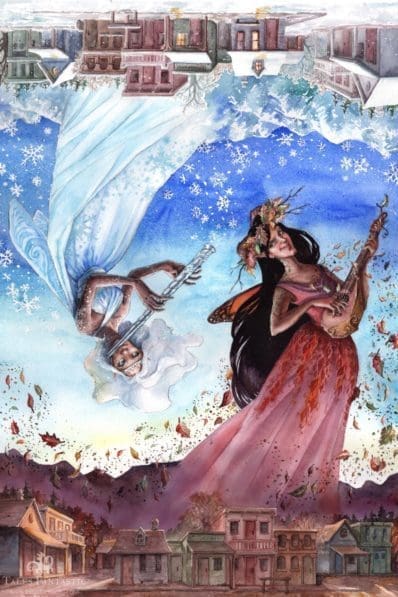 Stories Connect Us
I remember those moments reading with my mom and watching Star Trek with my dad. My oldest brother and I still quote old Faerie Tale Theatre Quotes to each other and laugh about them. These stores give us a shared experience and bind us together.
Why Am I Telling You This?
Because if you're like me and you grew up with an incurable desire to create, there are times you feel guilty about spending your time working on your art.
I hope these examples of how stories have affected me brought to mind some similar examples from your own life. Next time you sit down to create, think about how much art has helped you and be excited that you have the amazing power to enrich your life and the lives of others.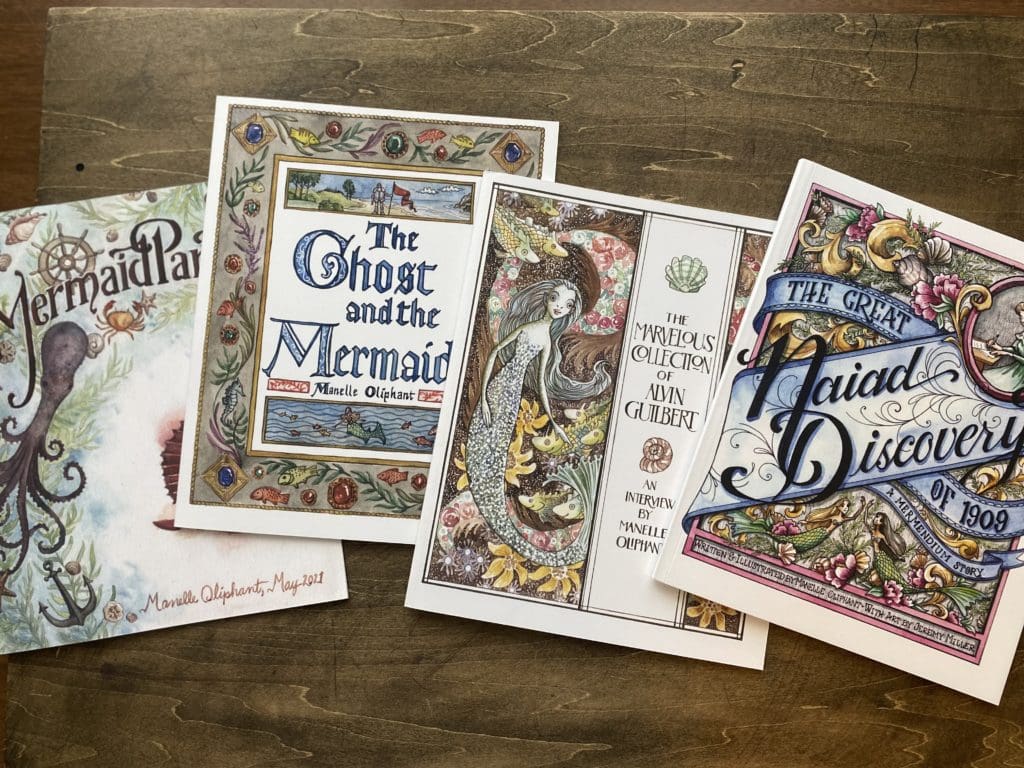 My Story
A quick summary of who I am and my path to becoming an author and illustrator.
I was born in Salt Lake City Utah.
I was the first of my parent's eight children.
My skills as an artist are recognized by the public.
I amazed everyone in my kindergarten class with a drawing of a panda bear next to a palm tree.
My high school years solidified me as an artist.
I knew I wanted to get a degree in art, and I took a sketchbook everywhere I went. I loved drawing dragons, and princesses. I also started painting with watercolors during this time.
I attended BYU-Idaho.
I studied drawing and illustration in college. During this time I started focusing on children's book illustration.
I started work as an in-house designer.
After I graduated, I got a job working as a layout artist/graphic designer in a city about an hour south of Salt lake. The skills I learned here would become essential when I started self-publishing books.
My freelance career began with a few small art jobs.
I got a few jobs here and there. Some I excelled at and others I failed. During this time I kept building my portfolio.
My first book traditionally published book is released.
I'd done illustration work for magazines and in the educational market before but this is when my first traditionally published book was published.  I learned a lot about working with art directors and how to read publishing contracts. I went on to do 6 books with Peachtree.
I started Tales Fantastic
I started Tales Fantastic from the desire to create the kind of art that really inspired me. I set new writing and artistic goals with the focus of being able to write and illustrate the books I loved.
I signed with my literary agent.
As I continued to write stories for Tales Fantastic I gained the knowledge and ability to make longer stories. Around 2019 I wrote my first draft of my novel the Magpie Magician. And after a few years of revising, I started submitting it to agents. I signed with my agent Adria Goetz and we've continued to revise the story and will start submitting it to publishers soon. 

Cats (Because cats are fun)
Learn More About Manelle
If you'd like to learn more about my journey as an artist, and my thoughts about art style, storytelling, and more, I've been a guest on these podcasts.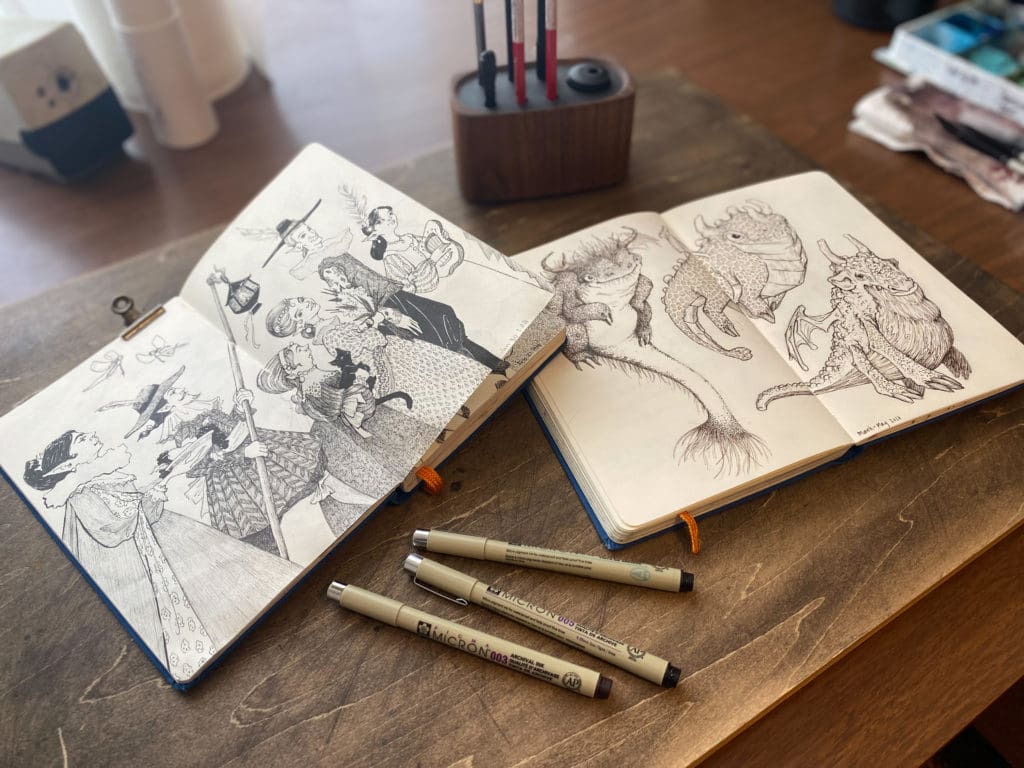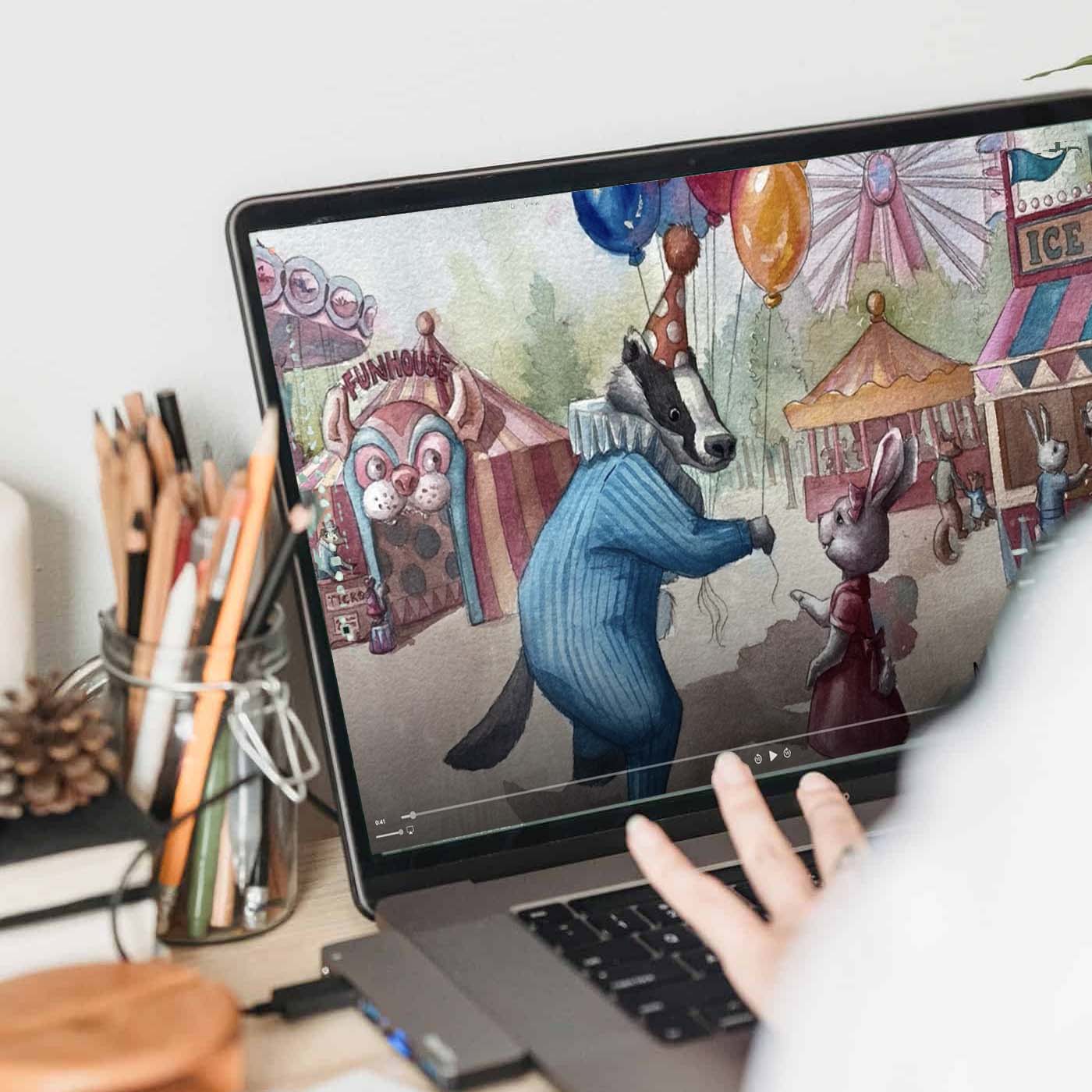 + Free Bonus
Art Helps People– Learn why you should stop feeling guilty for spending time on your art.
Work with me to build your own illustration career.
In the Illustration Business Masterclass, I'll walk you through every step as you create a professional illustration portfolio, present it, and find amazing illustration clients.
Media and Press Kit
Click below for my full press kit including bios and hi-res photos.