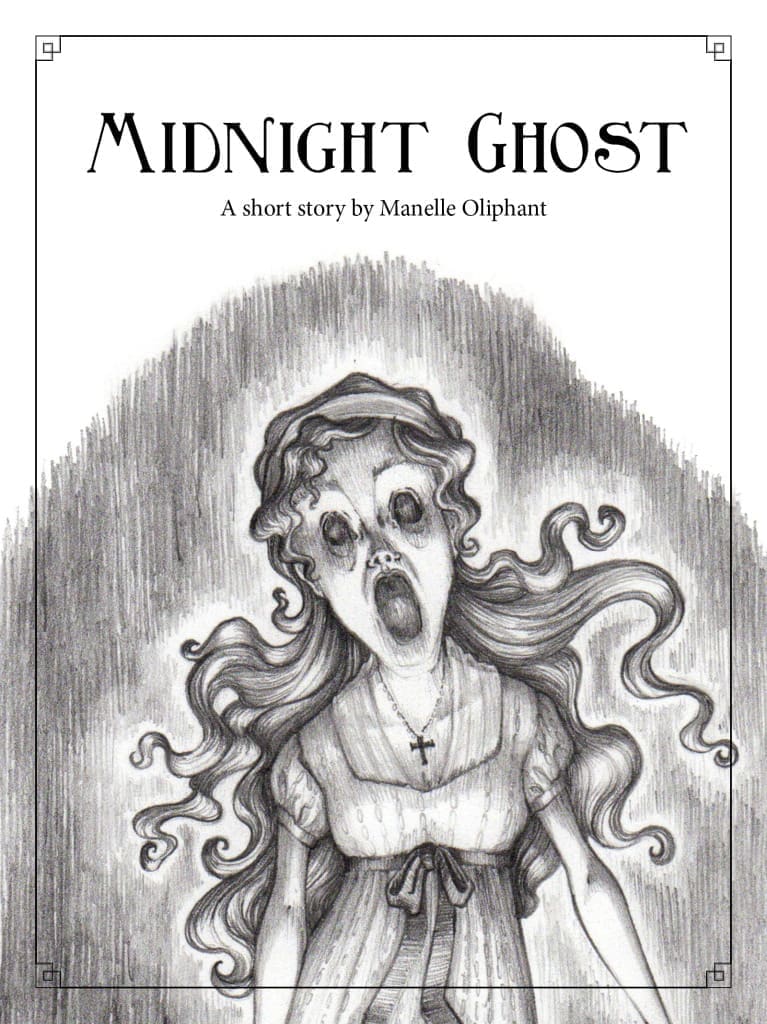 A Short Story By Manelle Oliphant
Text and illustrations © 2014 by Manelle Oliphant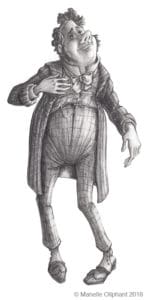 I waited in the dark hallway. I bounced slightly from the excitement of seeing her again. Every night for months I'd watched her glide down the hallway, but tonight was All Saints' Eve when the gate between the dead and the living would be open. Maybe this time we would be able to talk, and I could tell her that, that I loved her.
I moved closer to the wall to be out of her way. She always walked the same path. Twice she's drifted through me when I wasn't quick enough to stand aside. It felt horrible, a ghost on your inside, cold and damp.
The distant grandfather clock chimed midnight. I held my breath.
She appeared at the end of the hallway and drifted toward me. She wore a flowing dress old-fashioned dress and glowed white with a purple tinge. She grew closer and I smelled lavender. I smiled. She always smelled like lavender. Her colorless eyes looked sad but kind. They must have been green eyes when she still lived. I had never seen a more beautiful woman.
She drifted by me so close that if I put out my hand I could touch her. I imagined her warm and alive, soft hair and laughing lips. I sighed.
The slight wind from my breath blew across the hallway. Her form flickered and everything changed.
Her sad eyes turned to dark holes and she turned to me. Her face twisted in anger. "Why do you always watch me?"
I shrank back toward the wall. A cold despair wrapped around my heart. All my fond feelings disappeared.
She rushed closer. The lavender smell disappeared, replaced by the smell of rotten fruit. Her dark, now soulless, eyes were only a few inches from my face.
"Why?" she shouted at me again. Her chin melted downward as she spoke, and her mouth grew into a gaping hole. Her voice, still feminine but louder, boomed around the hallway and vibrated in my chest.
My mouth opened but words wouldn't form.
"Ahhhhh!" she gave a frustrated scream. Her spirit form grew in size and her soft purple glow turned to red.
I tried to speak. "I…I…" She moved closer still. I thought she would swallow me whole but as she came forward the last chime on the clock sounded and she disappeared.
I stood in dark silence. I took a shallow breath and reached in my pocket for my candle. My hands shook. I used three matches before the candle lit. I was alone except for the grim family portraits hanging in a line across the hall. I felt sure their eyes watched me. A notion, that before, I always thought rather silly.
I walked toward the stairs. I wanted to run but couldn't risk extinguishing my light. At the end of the hallway moonlight shown through a tall window and illuminated the main entrance at the bottom of the stairs. Now I ran. My candle went out. I let it go. Behind me I heard crashes and wails. A few times cold air brushed my skin. At the bottom of the stairs I yanked open the door and rushed outside.
I ran down the drive and only looked back at the house once. Lights shown through every window and the ghosts made a ruckus the likes of which I had never heard before or since. When I arrived earlier I felt excited, but the ghost's unexpected, violent anger changed all my feelings. I knew I would never be back. Stupid idea, falling in love with a ghost.
The End