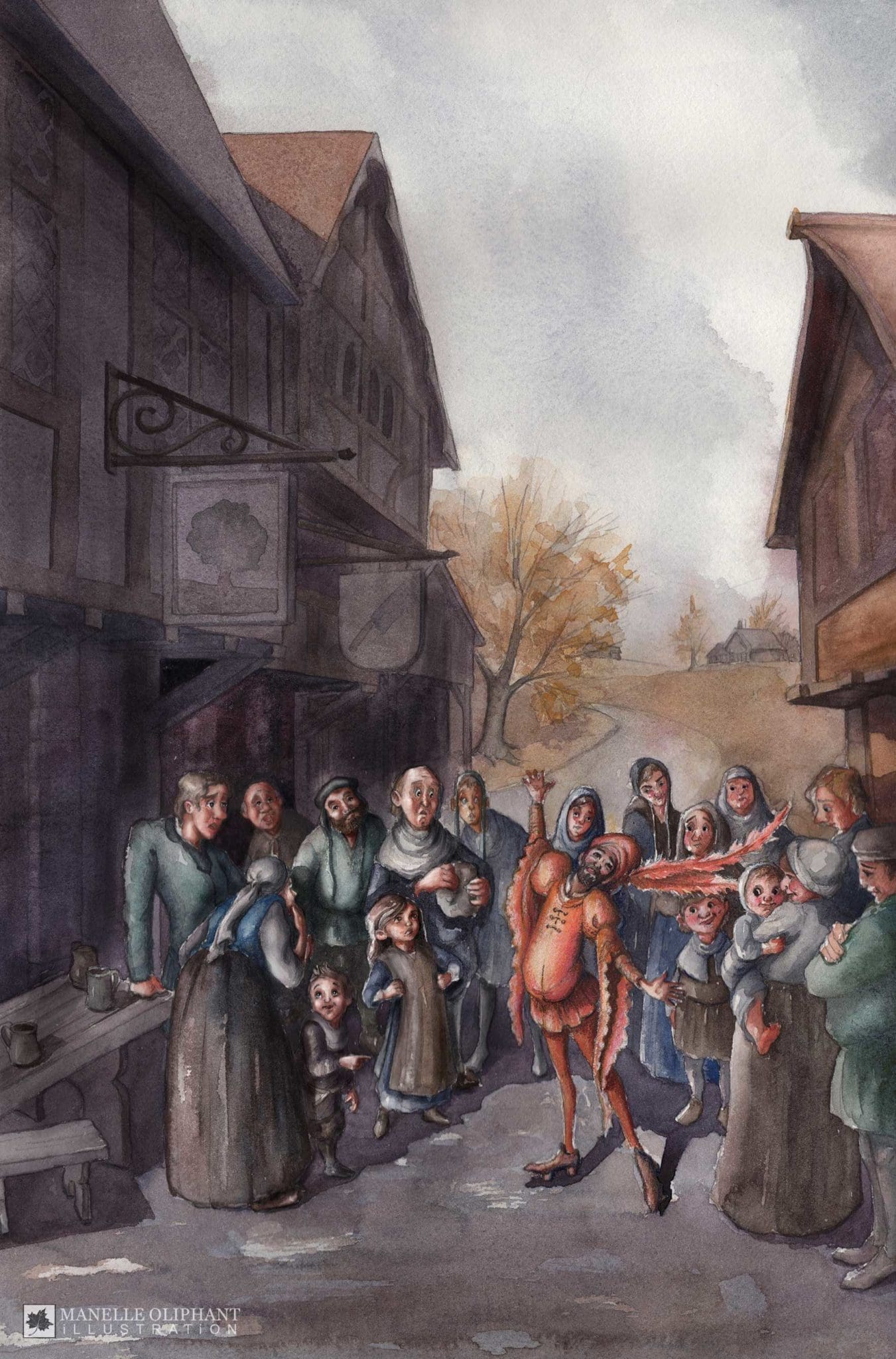 I'm excited about this new story because although it stands well on it's own I intend it to be part of a series of stories where various characters share fairy encounters. I think in a year's time when all the stories are placed side by side we'll have something really neat.
I hope you Enjoy it.
A Short Story By Manelle Oliphant
I had been mayor of our town for many years and wasn't worried about the upcoming election. My only competitor was Farmer Greenhorn. He was a good man but not tall or well dressed. His voice squeaked like a mouse, and he walked everywhere he went. So with election thoughts far from my mind I got ready for market day. I put on my finest suit, heeled shoes, and hat with a tall feather. (I was very self-conscious about my height.) I gargled with salt water so my voice would be in top form, and took my beautiful carriage to the market.
People were happy to see me. I gossiped with the greengrocer. The butcher and I chatted about the choicest cuts of meat, and I gave him permission to mention that I, Mayor Wilverhead, frequented his shop. All the while I complimented the goodwives' chubby babies.
I was enjoying the crowd's attention a great deal when the town crier walked through the market ringing his bell. "Hear ye, hear ye! Master Durin hereby announces his intention to run for mayor in the upcoming election." The person I assumed to be Master Durin, (I'd never heard of him before) walked behind the crier. He was the tallest man I'd ever seen and wore a suit of clothes so beautiful they almost sparkled. Everyone stopped what he or she was doing to watch him.
The crier and his client moved on and the temporary stillness dissipated. The woman I was complimenting scowled at me and moved away. The greengrocer smiled after Master Durin like he was a beautiful memory. "It looks like you have some competition, Mayor."
I frowned and continued my trip through the market, but the people who before enjoyed my company were unhappy to see me. Some looked over my short stature and turned away, downright ashamed at me being their mayor. After twenty minutes of dismal attentions, I returned home.
Throughout the next week, I spent my free time figuring out how to get attentions back on me. I needed to be taller and dress in a more grand style to compete with Master Durin.
The next market day I dressed in shoes even taller than I'd worn the week before and attached a longer feather to my hat. I'd bought a new suit in a flashy orange color. I felt magnificent as I rode my carriage right into the market's center. I stepped out with a flourish expecting great attentions. I didn't get them. The few who did notice me gave my carriage a nasty look as they walked around it.
A crowd had gathered in the square. Musicians played a whimsical, happy tune I'd never before heard, and Master Durin smiled down at everyone from the crowd's center. They gazed up at him with admiration. He passed out small cakes as he told the crowd the great things he'd do as mayor. His voice sounded like a thunderstorm. It grabbed my attention and comforted me at the same time. After the presentation, the crowd dissipated, and I stood alone. I needed a more commanding voice.
I spent the week speaking loud and trying to make my voice more musical. On market day, I wore even taller shoes, a hat with two deliciously long feathers and my new suit. I marched into town with a basket of candies to give away while a trio of musicians played behind me.
I danced my way through the market shouting greetings in my new voice and giving out candy. The basket emptied of its contents, but I barely got a glance from the shoppers.
The grandest carriage I'd ever seen drove into the market, and Master Durin stepped out. No one gave him nasty looks. In fact, people crowded around him and cheered. My stomach tightened. There was only one more week to remind the town of my existence. Maybe my carriage wasn't grand enough.
I planned all week. On Election Day, I woke early to make sure all was in order. I wore my double high shoes, double-feathered hat, and eye-catching suit. I'd practiced my loud voice all week, and adorned my carriage with brilliant flowers.
Twenty musicians followed behind me as I drove into town. I leaped out of my carriage while a beautiful fanfare played, and bowed.
To my astonishment, everyone was looking. I smiled and took a deep breath. "Good people, I hope for your vote in today's election!" I bellowed out as I threw candies to the crowd.
The people didn't cheer as I'd hoped. They only stared. The awkward silence stretched out around us.
The greengrocer chuckled at my suit. "Good Mayor, you look like a pumpkin."
The smile froze on my face.
The butcher laughed. "You sound like a sick dog."
My shoulders slumped.
A woman fingered a flower attached to my carriage. "Did you crash into the flower stall?"
At this, everyone laughed. I stood dumbfounded. I noticed the heaviness of my hat, and realized I had a sore throat and sore feet. I looked at my carriage. The flowers had cost a fortune. Now I couldn't remember why I had done it all.
I joined in with the crowd. We laughed for a good five minutes and when we stopped Farmer Greenhorn squeaked, "I would also appreciate your vote today." I started to laugh again, but I got glares from the town's folk. It seemed they liked Farmer Greenhorn.
He'd walked to town wearing his work clothes, and his voice was quiet, but everyone noticed him, and they voted for him too. Apparently, he looked more trustworthy.
The strangest thing about it all is Master Durin's name wasn't on the ballot. When I asked about it, the election official seemed confused. Other townsfolk gave me weird looks. No one remembered a Master Durin. We had all been enchanted by a faerie.
I used to blame that faerie for my loss, but I realize now I lost the election all on my own. My vanity had made me ridiculous.
The End